This project is one that we're quite proud of at Highbridge. A chain of dentist offices here in Indiana came to us and complained that they were spending quite an investment in a marketing agency and, after years, they just weren't seeing movement in their acquisition. As with every customer, our leadership team sat down and did a rigorous discovery process to analyze their clients, their geographic location, and any additional details.
Prime Smile's specialty is pediatric dentist care and their locations were central to some underserved communities. Prime Smile has beautiful offices with both private and public rooms, an engaging staff, comfortable waiting areas, and all necessary services. They even have anesthaesiologists that come to the office when needed so that children are provided a less stressful experience.
One target audience really stood out in their data: Prime Smile served a significant percentage of the Latino community in central Indiana. It's not general knowledge but Indianapolis has a thriving and growing Latino population.At each of their locations, they have bilingual staff members and they respond via phone, chat, or email via Spanish when needed.
But their site was English. The previous agency added a Google Translate button to the site, but that's extremely ineffective for a few reasons:
Organic Search – There was no native pages that were indexed for Spanish Searches.
Machine Translation – Google's translation service is rigid and doesn't do a good job with targeted industry terms nor specific demographics.
Multilanguage Support
An additional issue was that the client didn't actually own their domain nor their site, the agency did. That's a huge problem in the industry and one that we advise every client to walk away with. We build Prime Smile a new site and set up hosting in their name – they own every aspect of the site. Then we went to work to personalize and target their marketing efforts through multiple efforts:
WPML – We implemented a solution where we could get human translation services to rewrite and update content on the site when needed.
YouTube – We brought our own videographer in to interview the staff in English and Spanish, built a YouTube channel with language-specific playlists, and embedded the videos throughout their site.
Podium – We implemented a Spanish chat bot. Podium has limitations with regard to translation, but we did the best we could. We will be replacing this with an autoscheduling bot that we're integrating with their ERP right now.
Direct Mail – Because the communities they serve are highly targeted, we're kicking off some direct mail acquisition campaigns that are bilingual as well.
Lobby Banner – We are building lobby signs with trackable QR codes for their visitors to download a contact card and self-schedule their appointments.
Photographs – We did both drone shots of their locations, internal photos of their beautiful facilities, as well as maintain team pages so that visitors can see the staff at each location.
Mobile – We ensured the site was responsive and optimized for mobile viewing since that's the vast majority of their target audience.
Directories – We implemented a review-managment platform to manage, reply to, and display their reviews on the site, driving map-pack based traffic and phone calls to their business. We also implemented a directory service that ensured all their listings across 70+ directories were kept up to date.
When we launched the new site, we also ensured that we redirected all previous URLs properly. We also identified pages that the last agency missed that once ranked quite well with a previous site, winning back several organic search results.
Overall Results
The results have been dramatic. Organic site traffic is up over 3500% year-over-year, with over 10% of their traffic now coming from Spanish (es-us) users. If Prime Smile was buying this traffic, it's the equivalent of $14,500 of paid traffic per month! That's quite a return on investment.
We launched the site in July and you can see the results for yourself: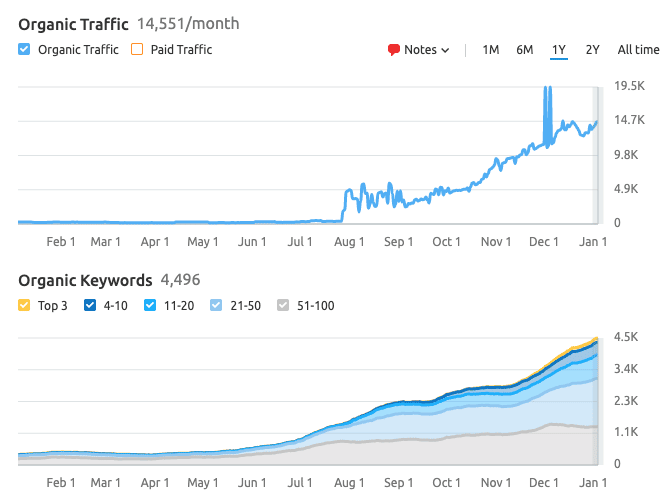 Native Spanish Resources at Highbridge
We also now have a great employee on board, Isaac Garcia, who is ensuring the site is properly translated. Isaac is bilingual and a business workflow expert. He works with us on multiple systems and is also Salesforce certified.
If you're in need of assistance with building a multilanguage, omnichannel strategy for your company, feel free to contact us. If your business is catering to community that's doesn't speak English natively, you may be leaving a lot of revenue off the table. We can help.