As a Salesforce partner, we have been introduced to a number of scenarios where we've assisted Salesforce clients. We've migrated clients to the platform, we've done extensive integration to the platform, and we've helped develop the staff to support the platform, and we've implemented the processes and reporting for clients.
Auditing And Enhancing Salesforce Utilization
One service we lead the partner industry in is the utilization of Sales Cloud to maximize the return on investment for our clients. There are different aspects to Sales Cloud utilization that span an organization's ability to digitally transform their sales and marketing efforts utilizing the CRM.
Foundational Stability – Data input, integration, accuracy, and enhancement is critical to ensuring the system is an asset to all layers of your sales team, management, and overall business needs.
Actionability and Utility – How can develop your staff and processes to establish best practices, increase adoption, and drive utilization to maximize your sales processes.
Scale and Accelerate – What automation, third-party tools, apps, systems integrations, etc. can you deply that will enhance and accelerate the impact of using Salesforce within your organization.
Salesforce is a significant investment of both time and budget to organizations, but the majority of companies are not realizing the vision that drove them to utilize the platform. In fact:
63% of sales leaders feel their company is doing a bad job of managing their sales pipeline despite 72% of sales managers holding several pipeline meetings per month.

Vantage Point
Sales Operations and Pipeline As An Asset
Our Sales Cloud work within organizations incorporates the following phases:
Behavioral Audit – how can you best utilize your sales team? Our behavioral audits are useful to better understand the balance of personalities and motivations within your sales team so that your managers can maximize their ability to impact individual and team performance. We can also provide ongoing professional development for the organization to better collaborate, communicate, and innovate.
Platform Audit – after a discovery meeting with the organization, we dig into your Salesforce data and setup to identify any issues that need to be resolved with respect to the accuracy of the data. We audit all entry points, introduced issues, and the downstream impact of those issues so that organizations can prioritize their transformation.
Operations Enhancement – after a review of the findings with the organization, we provide a project plan to assist you in maximizing the use of Salesforce to meet and exceed all business goals. This may include integration and development, building actionable reporting and dashboards, professional development of your staff, advising on resource allocation, and ensuring forecasts are implemented that align with your sales operation's process and impact on overall business results.
Uitimately, this program activates your organization's ability to predict and improve your sales operations team and fully optimize your sales pipeline using Sales Cloud.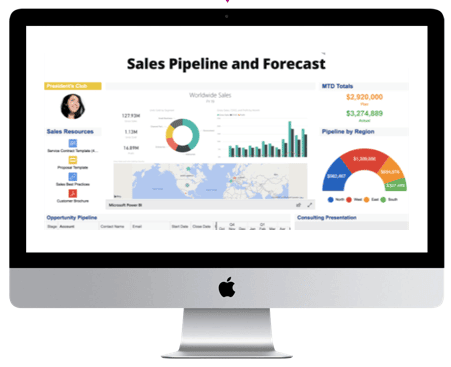 We have deployed this program within multiple industries, including healthcare, financial technology, technology (including Software as a Service) across inbound sales, outbound sales, and field sales organizations. Our results:
100% of our clients have increased utilization of the platform due to improved data accuracy. This accuracy motivates staff because of reduced time-to-close, improved prospect prioritization, and increased yield on pipeline. Faster, bigger, stronger sales.
100% of our clients have seen a direct return on investment with this program within 6 months of our first discovery meeting. There's also been a secondary benefit of reduced staff frustration, improved morale, and reduced sales staff turnover.
91% of our clients retained our services for additional integration opportunities, staff augmentation, and professional development of their sales teams.
We can help your organization maximize its investment in Salesforce Sales Cloud (and integrated platforms). Give us a call today and we can set up an initial meeting where we discuss your needs.