Between our founders and employees, we have over a century of experience working for, with, and on Salesforce. Quite a few of our staff have worked directly for Salesforce; we even had one of our founders recruited by Salesforce. Salesforce is the leading vendor in the customer relationship management (CRM) applications market worldwide with a market share of 23.8 percent in 2021. Salesforce leads the market with a significant margin. next in line to Salesforce are SAP, Microsoft, and Oracle with around five percent market shares.
In this article, we hope to dispel some myths about Salesforce and provide guidance to any company seeking to implement Salesforce as their customer relationship platform.
How Is Salesforce So Different?
One analogy we continue to use that speaks to Salesforce's advantages and disadvantages is that licensing Salesforce is like purchasing a race car. The advantage of a race car is that it can be tailored and personalized to the driver, the track, and the race to ensure you win. The disadvantage of a race car is that you'll need a crew to build the car and customize it for you, its driver. For the experienced driver, the race car is exactly what they need to accelerate their performance. For the inexperienced driver, or the owner without a timeline or budget, the race car will never make it on the track.
Salesforce is a multitenant platform, allowing for virtually unlimited capabilities, automation, and integration. It's cloud-based, secure, compliant, has incredible uptime, and every license comes with support and seamless upgrades three times a year. With AppExchange, Salesforce also has a broad spectrum of third-party integrations that can be easily implemented.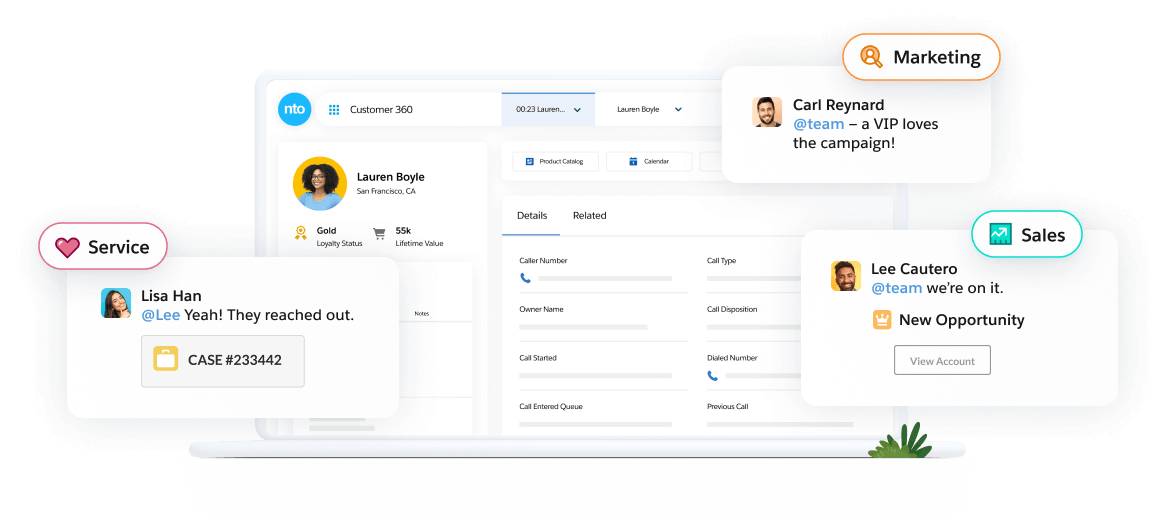 Advice For Evaluating Salesforce
Salesforce has both a very talented and very aggressive sales structure. Their marketing and sales teams are brilliant at showing potential clients the vision of what their brand can do utilizing the platform. This can lead to missed expectations of what an out-of-the-box Salesforce implementation can achieve versus what the company envisioned with the platform. The licensing and resources needed to span that gap can be pretty significant.
As companies evaluate platforms like Salesforce, they often look to the latest analyst reports and watch for those safe companies in that upper-right quadrant on innovation, capabilities, uptime, support, etc. While that's all well and good, maximizing your investment in Salesforce typically requires AppExchange apps, additional licenses for specific features, integration to the systems the company has already deployed, a partner to help you implement the solution, a careful data migration, as well as optimization and automation for the platform.
In other words… it can require a lot of money and time to get where you need to be. Having implemented Salesforce for dozens of companies large and small, here's our advice:
Hire a Salesforce Partner FIRST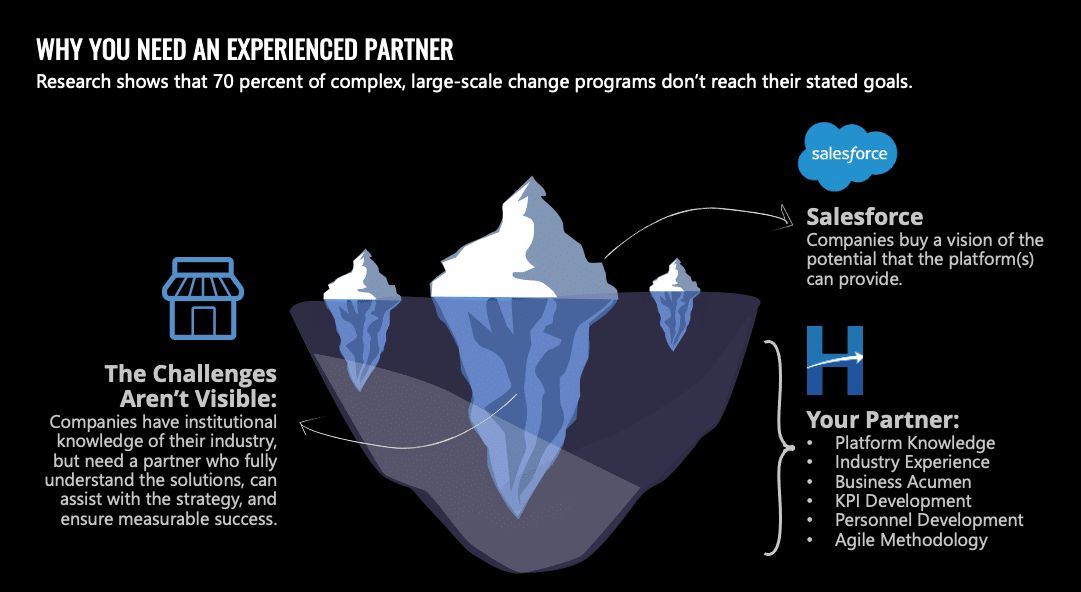 Your Salesforce rep, while incredibly talented and knowledgeable, have minimal experience in assisting organizations with their digital transformation and implementation of Salesforce. The process typically goes like this…
Your Salesforce representative puts together your license agreement and budget.
Once you agree to that budget, the representative pairs you with a Salesforce partner of their choosing. If a partner is great at suggesting and pushing a Salesforce customer into additional Salesforce products… that makes for a happy salesperson. That may not be in your best interest, though. We'd recommend against asking your Salesforce rep to find you a partner.
The partners and your Salesforce rep work to develop a budget and implementation statement of work (SOW) that meets the client's expectations. Again, that's not always in your best interest.
You agree to the Salesforce agreement, then the partner agreement, and schedule your implementation.
Hiring your Salesforce Partner first ensures you haven't missed any of the complexities that would cause additional licensing costs and implementation delays. As Salesforce Partners, we're acutely aware of the leeway that representatives have in pricing out seats, the length of the contracts, and the features you need to realize your return on Salesforce investment.
Too often, companies come to us over budget and behind schedule because their Salesforce representative was unaware of the complexities of their implementation. We can help set better expectations before you contact Salesforce… and we can help you negotiate a great contract and implementation plan that works.
Sales Cloud lets everyone on the sales team see and share all the pertinent customer information, giving reps everything they need to close a deal. AI-driven prompts let you know when it's the best time to take a specific action to drive a deal forward. Customer 360, Salesforce's complete suite of products, can unite your sales, service, marketing, commerce, and IT teams with a shared view of customer information, helping you grow relationships with customers and employees alike.
But only when they're implemented correctly.
How To Select A Salesforce Partner
Selecting Salesforce as your CRM platform can lead to incredible success or frustration, as does selecting your partner. I've tried not to be pushy thus far, but this is where I wish to differentiate Highbridge from the competition. There are tons of partners out there that suck up all the certified administrators and consultants in the Salesforce ecosystem… but that, in no way, prepares them for your challenges your company is facing.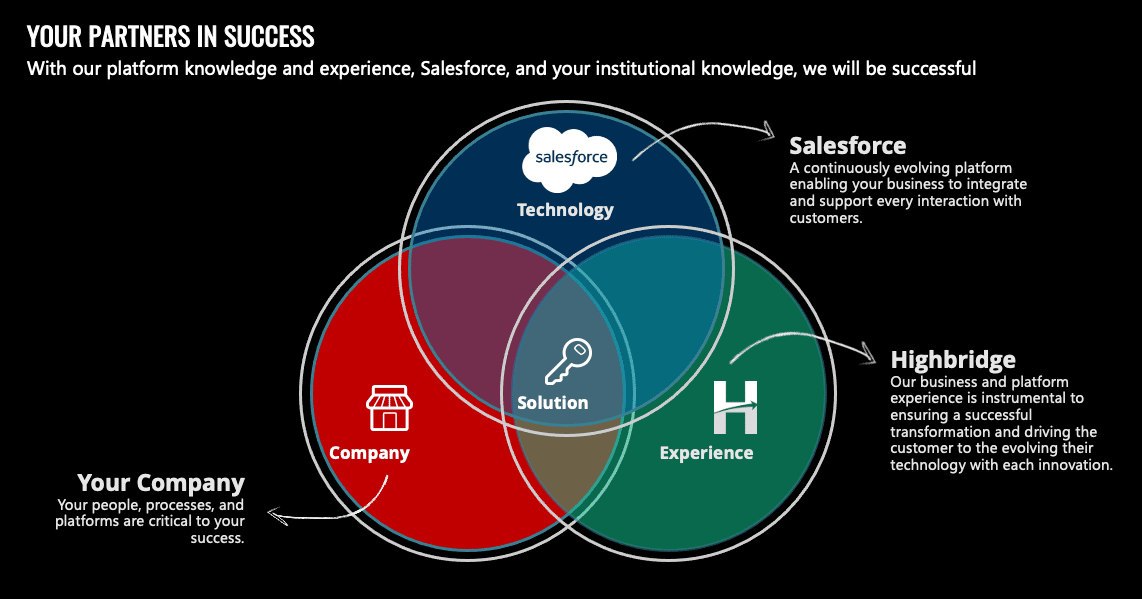 Most Salesforce Partners work exclusively on Salesforce products with no experience elsewhere. They aren't familiar with different clouds, ERPs, CDPs, CMSs, Ecommerce platforms, or any other platforms outside the Salesforce ecosystem. The reality is that most businesses don't… so find yourself a partner that's agnostic. We enjoy working in Salesforce, but our clients work across all industries and all platforms. It's allowed us to develop unique and innovative solutions that would have been missed otherwise.
It's not the industry focus, platform focus, certifications, or even the number of employees that will help you transform your company. It would be best if you worked with partners with decades of experience who have been challenged to innovate for every client, fully utilizing the potential of Salesforce. We continue to see implementations that had gone downhill when partners brought in their key players to close the deal, then passed the work on to an inexperienced team.
Our most experienced consultants are hands-on in every implementation.
Do Your Due Diligence
There are dozens of CRM solutions on the market that may exceed every requirement you have, can be a fraction of the cost, can be implemented faster, and can scale with your company. That doesn't mean Salesforce isn't a great fit…it's a malleable platform that accommodates any company's requirements. It's important for you to understand the trade-offs in implementing Salesforce or one of its competitors.
To assist in your evaluation of Salesforce, your company should do its due diligence:
Define Your Technology Stack – Salesforce integrations are virtually limitless. Many third-party providers have productized integrations. Knowing your tech stack and identifying how data can be synchronized or moved between systems is essential to your success. We've seen too many businesses that weren't prepared for custom development… or other companies that wasted money on custom development when out-of-the-box solutions already existed.
Define Your Processes – While your leadership works with your Salesforce representative, they're often unaware of the complexities involved with employees impacted by the systems they're using. Understanding the processes that require manual intervention is one area in which Salesforce has unique competitive advantages… so understanding what you can automate with Salesforce is an essential stage of your implementation.
Know Thy Data – Back when I was the first integration consultant for ExactTarget, now Marketing Cloud, we used to preach to our prospects that they must know thy data. If you're implementing a solution like Salesforce with data issues, you're inviting issues into your system that won't be easy to overcome. If instead, you can map every entry point and process that pushes data into your system, you can put the safeguards in to keep that data accurate, deduplicated, and synchronized throughout your stack. With Salesforce, there are data charges as well… so it's essential that you pair your data down to the meaningful fields that are essential to operating your business.
Define Your Manpower – The disruption of implementing Salesforce can be significant. Your business can't shut down, so you may have to plan out dual processes, augment your staff with experience Salesforce administrators, and even prepare your company for employees that may decide they don't want to expand their career using Salesforce. Working with a partner who can help you overcome this disruption is essential.
Justify Your Investment – Digital transformation with a platform like Salesforce can assist your business in removing the overhead associated with errors and manual system intervention. It can help you reduce your sales cycle, improve your targeting of prospects, increase your customer value, and improve your customer support and – with it – your customer retention. There's little doubt about the potential ROI of implementing a platform like Salesforce. However, I'm not confident that too many brands fully realize it without doing their due diligence and planning an optimal implementation.
Salesforce Implementation Considerations
As implementation and integration consultants that have seen it all, we'd recommend some other considerations as you're evaluating, implementing, and optimizing Salesforce for your company's digital transformation:
Presales Consulting – Working with our business development team can help you better understand the challenges of engaging with the Salesforce sales process so that your expectations are set and you make the necessary demands. Thousands of dollars spent here can save you tens of thousands of dollars with your contract.
Discovery Phase – The best implementations that we've ever executed were with companies that invested in a discovery phase to identify data issues, process issues, automation, and integration opportunities. We interview key employees impacted by the platform to ensure we set expectations and manage the critical issues that must be overcome. Because adoption greatly impacts the likelihood of success, a discovery phase can help create buy-in and help your staff not be overwhelmed during and after the implementation.
Staff Augmentation – Working parallel with old platforms while implementing a new platform can be exhausting. Having a budget and a partner that can assist your team, implement on their behalf, and then train them on the implementation is a great way to reduce the timeline to transition and avoid costly errors with inexperienced staff. I'd also add that Salesforce has outstanding learning resources that your staff should take advantage of before you begin your implementation. We're shocked at the number of clients that don't… and then are frustrated down the road. We can also provide a pod where we hire and train your Salesforce talent pool, and you hire them once the implementation is complete… having an expert who understands your implementation from start to finish.
Build versus Buy – While we've developed hundreds of solutions for clients, we've pushed most to well-supported and well-distributed third-party tools. Companies vastly underestimate the cost of maintaining proprietary solutions they've developed as security changes, APIs advance or the company migrates to a new solution. Don't waste money on the development you don't require.
A Salesforce implementation isn't an IT project that has a completion date. Implementing a solution like Salesforce is a continuous improvement process that truly starts the day that you begin using the platform to deliver business results. As such, you should be working with a partner that has a programmatic approach to success.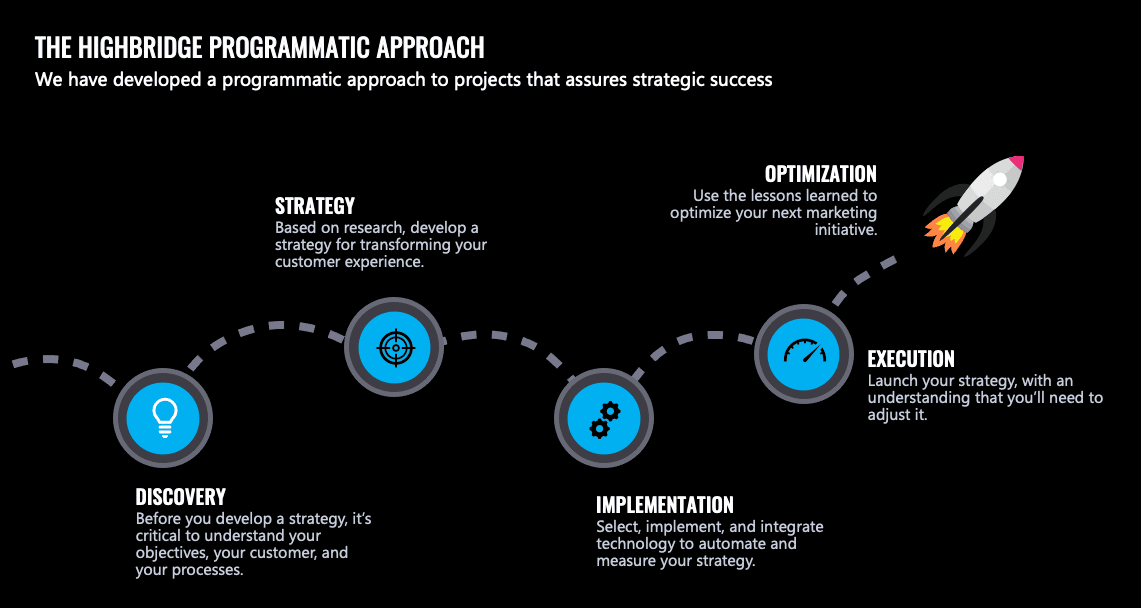 Salesforce Layoffs
You may have noticed recently that Salesforce has laid off 10% of its workforce and more layoffs may be coming. Having worked in the ecosystem for over a decade, we believe there was a lot of overhead and bureaucracy in the organization. We watched as talented client resources were promoted right out of the jobs they excelled at into managerial positions.
Since we assist our clients in communicating with Salesforce's customer service team and sales representative, we've also had some frustrations internally. However, because we have a ton of experience, we are far more successful at overcoming challenges than our clients are when enlisting Salesforce's help.
We're optimistic that the layoffs will force efficiency within the Salesforce organization and ultimately be better for their customers. As a Salesforce partner, we're also optimistic that clients will realize the partner they utilize is a primary key to their success… even more so than the company or the platform.